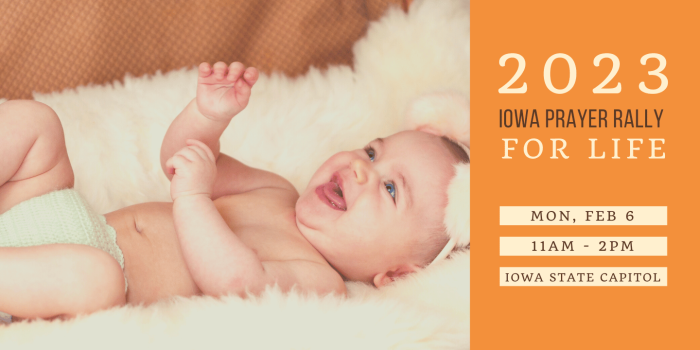 Pro-death groups gather together any chance they can to be a loud and persuasive voice in today's culture. We to must do the same, but in prayer, encouragement and peace giving a voice to hose without.
We urge you to attend the 2023 Iowa Prayer Rally for Life – bring your family, friends, church family and more – and Be a Voice for Life!
Monday, February 6
11:00AM to 2:00PM
Iowa State Capitol
This year, we have much to celebrate. 2023 is the Year of Jubilee! Just as the 50th year was a grand year for God's people of Israel, January 2023 marks the 50th anniversary of the Roe v. Wade decision. Thanks be to God the Supreme Court overturned that ruling. Sound the trumpet!
SCHEDULE OF EVENTS:
Join the Movement | 11AM – 2PM | Rotunda
• Stop by the Iowa Coalition of Pro-Life Leaders tables to find out how you can join the effort to save both babies and mothers in Iowa!
Learn to Lobby | 11AM – 12PM | Room 305
• To lobby is to seek to influence a politician or public official on an issue. And your voice matters! Work with veteran lobbyists on how to effectively lobby at the State Capitol.
Prayer Rally for Life | 12PM – 1PM | Rotunda
• Hear from Iowa's pro-life leaders on the latest efforts to save babies' lives, hear from and encourage legislators who are standing up to defend life, and join local clergy in powerful prayer.
Invited Prayer Rally for Life Speakers:
Governor Kim Reynolds
Senator Kevin Alons
Senator Mark Costello
Representative Luana Stoltenberg
Rev. Dr. Jim Lamb – Lutheran Family Service Life Advocate
Lobby Your Legislators | 1PM – 2PM
• Encourage, pray for and work to influence your legislators to support pro-life legislation!
Help Spread the word:
Download and print the flyer to include in Sunday's bulletin and hang around your church or campus. Click HERE.
Share the event on Facebook: https://www.facebook.com/events/1881596928846830 
Jesus calls us to be the light of HIs truth in this dark world and to be like salt in preserving this truth and defending it. Our Christian responsibility as citizens is to be a voice for God's truth in the ears of those who represent us. We must work to make Iowa a place where life at all stages and in all conditions is valued and protected.
We sincerely hope to see you there!
Your Lutheran Family Service Life Advocacy Team