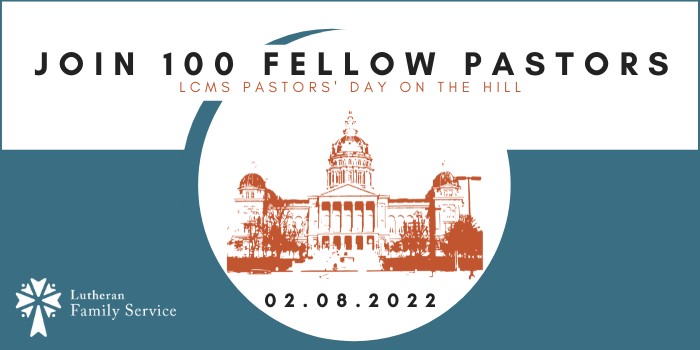 AGENDA – Tuesday, February 8, 2022:
8:45AM – Arrival at Gloria Dei Lutheran Church – 8301 NW Aurora Ave., Urbandale, IA 50322
9:00AM – Breakfast Served
9:15AM – Welcome & Overview of Kingdom of the Left Efforts – Past, Present & Future – Rev. Max Phillips, Executive Director of Lutheran Family Service
9:25AM – Engaging the Church and Culture to Defend Life – Guest Speaker, Rev. Dr. Gregory Seltz, Executive Director of Lutheran Center for Religious Liberty (LCRL) in Washington D.C. (an LCMS Synodical organization)
10:15AM – Iowa Life Issues Updates: Physician Assisted Suicide & Abortion – Rev. Dr. Jim Lamb, Lutheran Family Service Life Advocate
10:25AM – Effective Lobbying Tips and Strategies to Make the Biggest Impact – Guest Speaker, Mary Ann Hanusa, former Iowa House Representative from 2022 – 2021 and also a faithful member of the LCMS
10:45AM – Carpooling to Iowa State Capitol
11:10AM – Meet & Greet with the 6 LCMS Legislators at the Capitol
11:30AM – Group Photo on Grand Staircase
12:00PM – Lobbying & Praying through in-person meetings with Legislators
2:00PM – Carpooling back to Gloria Dei Lutheran Church & Travels Home
LCMS Pastors' Day on the Hill - Feb 8, 2022
Have additional questions about this event? Please contact Director of Life Ministries, Kim Laube, at 515-251-4900 or klaube@lutheranfamilyservice.org.