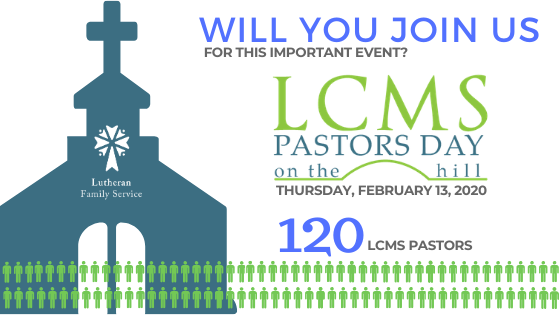 AGENDA – Thursday, February 13, 2020:
9:30AM – Arrival at Hope Lutheran Church – 3857 East 42nd St., Des Moines, IA 50317
9:30AM – Breakfast Served
10:00AM – Address by Rev. Max Phillips, Executive Director of Lutheran Family Service
11:15AM – Carpooling to Iowa State Capitol
12:00PM – Meet & Greet with the 10 LCMS Legislators at the Capitol in room #103
12:15PM – Lobbying through in-person meetings with Legislators
2:00PM – Carpooling back to Hope Lutheran Church & Travels Home
LCMS Pastors Day on the Hill - Feb 13, 2020
Have additional questions about this event? Please contact Director of Life Ministries, Kim Laube, at 515-251-4900 or klaube@lutheranfamilyservice.org.