Scripture tells us that marriage was God's idea. It was meant to be the first building block of family and a place for little humans to become mature humans, capable of survival. Everyone needs family, that has never changed, from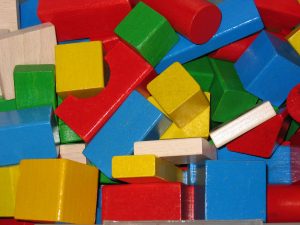 before Christ to today. Relationships within the family are all about getting our needs met, both physically and emotionally, and growing into who we are meant to become. World-renowned family therapist, Virginia Satir, told us: "We need 4 hugs a day for survival. We need 8 hugs a day for maintenance. We need 12 hugs a day for growth."  This is a wonderful design that works for many people.
So why do some marriages, the first building blocks of the family, fail to last?   We all try so hard to have loving relationships that work, and yet it turns out to be harder than it looks. Thankfully, God gives us solid guidance in his Holy Word, intended to guide us to the ultimate goal of sturdy relationships within the family, starting with marriage.
As followers of Christ, we should strive to have a "Colossians 3" marriage, in which the Apostle Paul urges all God's people to "clothe yourselves with tenderhearted mercy, kindness, humility, gentleness, and patience.  Make allowance for each other's faults, and forgive anyone who offends you. Remember, the Lord forgave you, so you must forgive others. Above all, clothe yourselves with love, which binds us all together in perfect harmony. And let the peace that comes from Christ rule in your hearts. For as members of one body you are called to live in peace. And always be thankful. Colossians 3: 12-15. With support, guidance and commitment, we can all achieve this goal. Lutheran Family Service Therapists are available to help you and your spouse work through the stumbling blocks preventing you from having the marriage God intended.
Kristi Manley, LMHC
Outpatient Individual, Marital, and Family Therapist
Quad Cities