Lots of people are at home these days due to COVID-19, and if you have a toddler, like me, you might be going a little bit crazy. The parks are closed. The zoo is closed. The children's museum is closed. What are you to do with a rambunctious, stir-crazy toddler?
Here's six fun (and one not-so-fun) ideas to do with your toddler during this time.
We'll start with the one not so fun:
Potty training
Yep. You read that right. It never seemed like the right time before because we constantly had something going on. We were out and about doing this or that, but now, we are home. They say to potty train when you can be home for a week to two and here we are. If you feel like your toddler is ready and showing interest in the potty, then quarantine might be the perfect time to train! If you need tips and tricks you can always Google or check Pinterest. Or, feel free to e-mail me. I'd also love your prayers for us as we endure this new challenge.
Now let's talk about the six fun things we have been doing!
Do Arts and Crafts
Pull out the crayons, paper, pencils, and paint. For something simple, you can find all sorts of Christian and other coloring sheets online that are free to download. For something a little more creative, paint a window using Crayola washable paint with a drop of dish soap and just a tad bit of water. We outlined a design in painters' tape and then had tons of fun. The colors were very pastel on the inside, but the view seen from outside was beautiful! We are hoping to lift the spirits of anyone passing by and remind them of Christ's love for us during this time of uncertainty.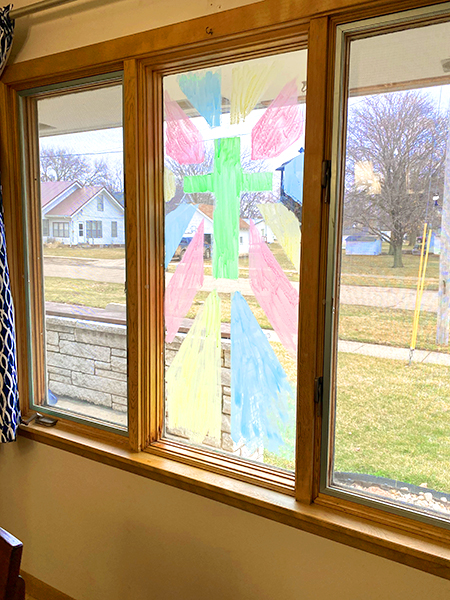 Read
Pick out some favorite books and read them. Or, find some books that aren't read very often and read those. You can even make a book with your child. Find your favorite bible story, write the words on blank pages, and have your child help illustrate the photos. Then, staple the pages together and read the book with your child. Sitting, snuggling, and reading a book is something we love to do at our house.
Watch Movies
Grab the DVDs, blu-ray discs, and popcorn. Have a movie night in. There are so many streaming services to choose from: Netflix, Disney +, and Amazon Prime just to name a few. You can find a new movie or, look for some of the classic movies you once watched as a child!
Get Outside
The park may be closed, but sidewalk chalk and bubbles are so much fun! Go outside and be in the sunshine. Take small walks around our town if you can, but please follow all guidelines for social distancing while doing so. If you have a swing set or play set outside, make good use of it during this time. Sometimes, just being outside in nature is so good for the soul as we marvel in God's earthly creations such as flowers, trees, birds, bugs and more.
Dance
We play music daily at our house, and while we do so, we dance! Get those wiggles out by busting a move! You can find several kids songs on YouTube that have actions for kids to follow. Speaking of YouTube, look up some kids exercise videos too! We do "Cosmic Kids Yoga" when we really need to move and relax. So many fun videos to find online, and they help wear off some of that toddler energy making for a more restful slumber.
Pray
Pray with and for your child(ren). Give prayers of thankfulness for good health, home, food, family, friends and others.
What a joy to be living in a time with amazing online services, and prayers for all others during this time. Although this time might be difficult, make sure to cherish and enjoy this rare opportunity to not be so busy as you spend time at home with loved ones.
Bethany Kuhlmann, DCE
Lutheran Family Service Congregational Services
Looking for other Godly resources during this COVID-19 pandemic? Click HERE for lots of great articles about family, self, activities and more!