When I was a young girl, I wanted to be a famous ice skater or dancer. But, when I started school, I soon decided that being a teacher would be a fitting career. I loved everything about school. In fact, I loved playing school at home. I wrote out countless worksheets by hand for my two younger brothers, and I expected them to play school after school! That idea for free time did not interest them. But, above all my dreams of being a teacher, were my dreams of being a mother. I loved babies, and like most girls, I fantasized about the day I would marry a handsome, fine man and become a mother.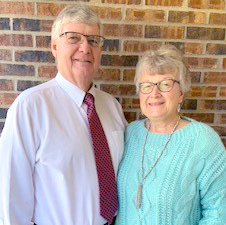 During high school, I prayed that God would lead me to a Christian man who would eventually become my husband. I met that man, Randy, in the high school study hall when the teacher assigned us seats across from each other. We graduated and went off to college, pursuing our chosen fields. He earned a degree in Business Administration. I graduated from Concordia College, Nebraska, where I earned a degree in elementary education. We married and decided to work a few years before we began our family.
Well, that was a nice plan. But our plans don't always mesh with God's. I prayed and prayed to be pregnant to no avail. Sometimes I would be so bold as to ask for a little boy with brown eyes. (I still tease my husband that I married him for his brown eyes). After a year of trying unsuccessfully to conceive, I went to the doctor and was referred to a specialist. Fertility drugs did not work. It was determined that I had endometriosis. My first surgery resulted in the removal of one of my ovaries due to the severity of the disease. But, my doctor encouraged me by saying I could get pregnant with just one ovary. It didn't happen. Instead, my pain continued to worsen. A second surgery was suggested where the surgeon would remove every visible sign of the disease. He reminded me that endometriosis is similar to cancer in that if even one cell of it was left inside me, it would grow back. And, it did.
After I shared my situation with a neighbor, she suggested that we put our name on the waiting list to adopt through Lutheran Family Service. After praying about it, we did. After approval, we were told that it could take several years. Due to the increased number of abortions, the agency did not have as many babies in need of loving homes as in years past. One of their rules for adoption eligibility was being "involuntarily childless". In other words, we could adopt once through them.
We continued in our careers. Then one day, we received the long-awaited call that a baby was waiting for us. She was two months old, and we were asked if we could meet her at the foster home and take her home. "Well, absolutely!" was our response. Since I was feeling great physically, we planned her baptism and dinner for our relatives that very weekend. She was a "Gerber baby", perfect in every way. How I loved dressing her in beautiful dresses from grandma and grandpa, who had all grandsons. Since I valued being an at home mother of young children over my teaching career, I resigned from my job as preschool director at our church and enjoyed every minute of motherhood.
As she grew, I longed for a second child. Since we were no longer eligible at Lutheran Family Service or other agencies to adopt a second child, we needed to find another way.
[Note from Lutheran Family Service: Lutheran Family Service adoption policies, along with other agencies, have evolved over the years so that multiple children are able to be adopted by the same family through an adoption agency.]
One day, my good friend, who had an adopted son, and I were having coffee as our two children were playing. She handed me some Holt International magazines to peruse. I liked reading about the children who were waiting for families. My husband was ready to apply through Holt, but I didn't know how a Korean child would be accepted in small town Iowa. Then one day, we were waiting in line for lunch at our church camp after a morning of volunteer work. We were right behind a young Caucasian couple with a little Korean boy in a stroller. "Just one look. That's all it took." I told my husband we needed to get those Holt forms filled out and sent in. At that time, they needed homes for boys. Since we had a girl, that sounded perfect to us, though with both children, we were open to either sex. In about nine months, we were blessed with our son who was 18 months old. We had to meet his chaperone and him at the Des Moines airport. There were chaperones for the five baby girls on the plane as well. We were told that he kept busy hiding all the toys from the girls! We were elated. We had a daughter and now a son. His godparents had gone to the airport with us to meet him, and soon after, he was baptized on Easter Sunday.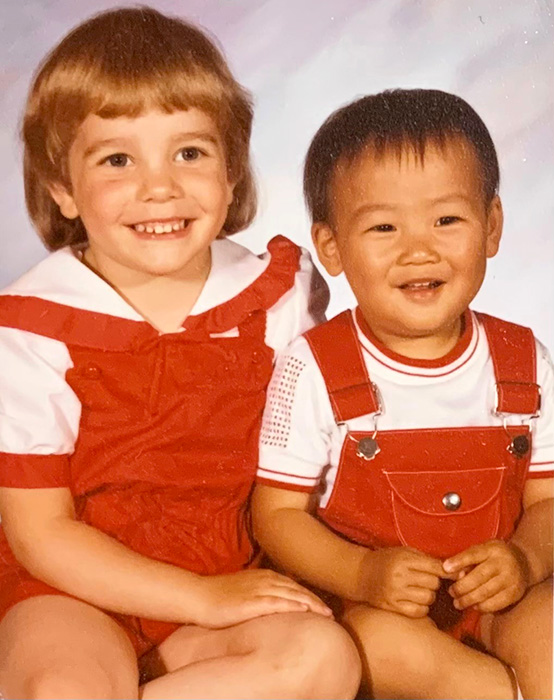 I thoroughly enjoyed being at home with both of our children–reading, singing, cooking, playing outside and going for walks, and every other thing preschoolers enjoy! Our son picked up our language quickly. Teaching him the English words for things and listening to him try to say them resulted in lots of laughter for our daughter and us. He had an ability to remember long sentences. One time I was shopping with him in the cart, and he started singing the Lutheran liturgy. You can imagine the expressions I saw when they heard a little Korean boy, about two years old, singing "Let the vineyards be fruitful, Lord, and fill to the brim our cup of blessing." Another time when I was folding clothes, he stood my rectangular laundry basket on end as if it were a podium and loudly announced, "If we say we have no sin, we deceive ourselves, and the truth is not in us." I worked and worked with our son to teach him the gospel, but he would give me a blank look when I continued with, "But if we confess our sins, God, who is faithful and just, will forgive our sins and cleanse us from all unrighteousness." Those were the best years of my life–being home with our children. Our friends with two incomes were buying new homes and vehicles. We were as content as can be renting an old house and driving one old station wagon. It was the right decision for our family. Before our son started school, I had a complete hysterectomy. After I recovered from surgery, I felt so much better physically, and I was able to enjoy them even more. When they were both in school full time, I returned to my teaching career.
Randy and I are celebrating our 50th wedding anniversary this year. I tell people that we are thankful for 50 years of blessings and God's help with struggles. Isn't that what life is, even for Christians? We receive blessings but face earthly struggles, such as infertility. God turned my struggles with infertility into the blessings of being a mother of two adopted children and now a grandma of a girl and boy! Yet I marvel to this day when my children, Beth and Ben, are 40 and 38, at how God answered my prayer to be first and foremost, a mother. There is no greater calling, in my opinion, because mothers (and fathers) have the privilege of leading their children to Jesus, their Savior. What job could be more important than that?
Our son was not a Gerber baby like his sister. We really don't know anything about him prior to a police officer finding him abandoned at a Buddhist temple in Seoul, Korea. He took him to the police station, and then he was admitted to Holt International's foster care. The doctor who examined him guessed him to be about one year old when he was found. The foster mother nurtured him for another six months before he flew home to us, his forever family. He showed no signs of abuse, but his growth was delayed. We were told that perhaps a single mom had tried to take care of him as long as she could. We knew he was meant for our family because he would have plenty of opportunities for all areas of child development. How awesome is our God? Our God is so awesome that He is able to take a young child from the steps of a Buddhist temple and bring him to a Christian family across the ocean who welcomed him with open arms that will never let go.
When we went to the airport to get our son, we were told to give a blanket to our chaperone. She would go out to the plane, wrap him in it, and bring him to us. You can imagine the excitement as five couples watched for their pink and purple blankets to come toward them. We couldn't wait to see the little face under the only blue blanket. As the chaperone laid him in my arms, the blanket fell back, and I saw two of the darkest brown eyes I have ever seen. They were so dark I could barely find the pupils. It was then that I remembered my bold prayer from years ago for a little boy with brown eyes. Some people say that God has a sense of humor. Perhaps He does. But at that moment, He said to me, "See what I can do?" I am your God."
Carla R. Roghair
---
Has God placed adoption on your heart? Learn more about adopting through Lutheran Family Service HERE.
Or, are you or someone you know facing an unplanned pregnancy and considering adoption? We've got loving families ready to adopt your precious baby. Learn more about our pregnancy support HERE.