It is with great joy that we opened a new, physical office in Bettendorf, Iowa, to serve the Quad Cities area and beyond! This office provides a dedicated space that is quiet, confidential and free of distraction for those in eastern Iowa (and soon to be Illinois).
We have a team of four Lutheran Family Service staff members currently serving others from the Bettendorf office:
Jamie McWade, LMHC – Mental Health & Marriage Counselor
Amber Dopler, LISW – Mental Health & Marriage Counselor
Kari Smith, MS – Adoption Caseworker, Unplanned Pregnancy Counselor & Congregational Services
Rev. Nathan Grewe – Congregational Services
Our mental health and marriage counselors, Jamie McWade and Amber Dopler, are in the process of becoming dually licensed to serve clients in the bordering state of Illinois in addition to Iowa. Virtual counseling sessions are also conducted out of the Bettendorf office to those that live too far away, are homebound, or otherwise unable to meet in the office.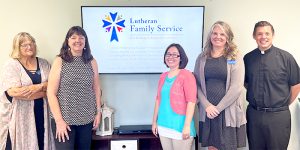 Kari Smith, our unplanned pregnancy counselor and adoption caseworker, already serves women and families in northern and central Illinois through this office as well as women and families in eastern Iowa. And, Rev. Nathan Grewe is a part of the Congregational Services team reaching out to congregations as well as pursuing his masters degree in mental health counseling. Through this office, counselors and caseworkers are able to meet face-to-face with clients to work through the challenges of life.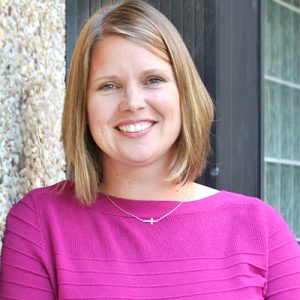 "Not only are our team members experienced, educated and excellent at what they do, but they have the heart for ministry work because Christ is at the center of all we do here at Lutheran Family Service," said Wanda Pritzel, Director of Counseling.
An open house and dedication was held in late August. The friends, partners and supporters of Lutheran Family Service in attendance were given tours and learned from staff about their daily work and the impact it has on so many lives in the Quad Cities area and beyond – including a new grief support group serving those struggling with grief or loss
Rev. Bradley Ferch (Lutheran Family Service Board of Directors member and pastor of Immanuel Lutheran Church in Davenport) dedicated the space, sharing Scripture and prayer relevant to the work done in the new, Quad Cities office. Thank you for your prayers and financial partnerships which support the ministry allowing us to serve so many right in our own communities and congregations.
Live in the Quad Cities? To schedule an appointment for mental health or marriage counseling with Jamie McWade, LMHC, or Amber Dopler, LISW, reach out using our web form or call 563-359-0696.
[Photos below are from the open house – enjoy!]