Kim Laube oversees adoption and pregnancy counseling for Iowa, North & Central Illinois, and Eastern Nebraska as well as advocates for life issues with our congregations and in the public square.
"Our life advocacy has impacted laws that save lives of the unborn, elderly, disabled and infirm. Our adoption and pregnancy counseling programs help women make life-affirming plans of parenting her child or placing her child for adoption."
Kim has over 21 years of experience advocating for life issues and over 13 years of experience in adoption casework and serves the ever-important role of walking with women during difficult circumstances to show them the love of Christ.
"These women often have multifaceted challenges beyond an unplanned pregnancy. Fortunately, Lutheran Family Service is also multifaceted so that where my abilities might stop, my colleagues in Mental Health Counseling might be just the right person to pick things up from there and provide their expert services too."
We invite you to make a gift in Kim's honor to support the unfunded work of pregnancy counseling to help young women choose life and life advocacy efforts at the capitol to make Iowa a place where life in all stages, ages and conditions is valued and protected.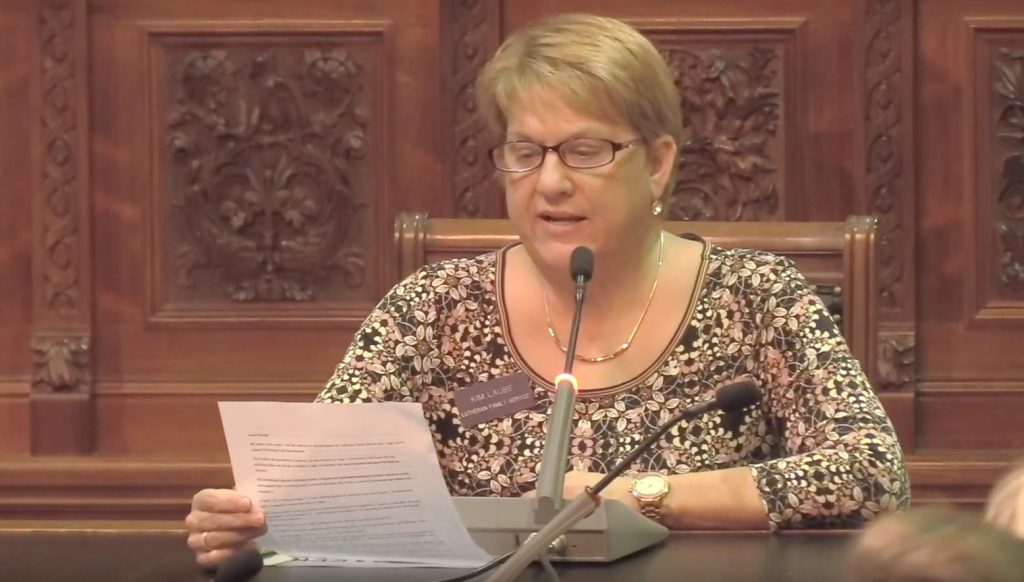 Kim Laube, Director of Life Ministries, offers up testimony at the February 25, 2020 Protect Life Amendment hearing at the Iowa State Capitol.
Watch Kim Laube's recent hearing testimony at the video time mark of 33:45.