The world of Christian adoption continues to shrink with the agencies dropping their Christian identity or closing altogether. In our "self-centered" culture, the purpose of many agencies is to find parents a baby. However, at Lutheran Family Service, our mission is to find babies loving homes so that they will be baptized, raised by parents that are Christians, and come to know the love of Jesus.
Currently, Lutheran Family Service facilitates just 1% of all adoptions in our area. Our goal? To grow tenfold and add these precious little babies to the Kingdom of God.
Because our society and culture continue to drift away from Christianity, the word "Lutheran" can be intimidating. There may be shame that comes along with unplanned pregnancy, and there is the false belief of being met with judgement. We don't want to keep women from seeking us out for any reason – most especially something as simple as our name!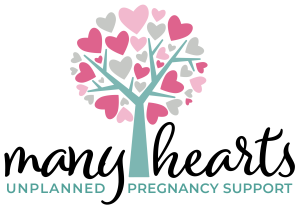 With this in mind, Lutheran Family Service launched Many Hearts Unplanned Pregnancy Support this spring as the public-facing brand for our life-affirming, unplanned pregnancy counseling program. Reaching many hearts means getting creative to remove obstacles and save lives. The response to Many Hearts, and the expanded services and resources we now offer, has been incredible. Just five months after launching, we are serving 150% more women facing unplanned pregnancy than before.
While Many Hearts is the brand that these women see and feel comfortable reaching out to, they will experience the same love and Christian care during their difficult time.
Launching a new brand and serving the increased number of women comes with obvious budgetary challenges. Lutheran Family Service has just hired two additional pregnancy counselors and adoption workers. They will join the team, who together, serve all of Iowa, eastern Nebraska, north and central Illinois, and most recently, eastern South Dakota.
Our multi-faceted advertising strategy to reach women directly includes a new website full of resources, dedicated phone line and text line service, ads and accounts on social media and streaming music platforms, search engine optimization and marketing, and more. Our promotion to reach women indirectly through referral sources includes personal meetings and travel to pregnancy resource centers, high schools, college campuses, and health clinics. Printed materials (brochure, text line cards, tear-away posters) and direct mail marketing is also used to inform and partner with OBGYNs and other women's' health providers.
As to budgetary needs, the saints at Immanuel Lutheran Church in Lone Rock (just northwest of Fort Dodge, Iowa) were the earliest to answer the call, enabling the Many Hearts launch through a distribution from their congregational endowment. While the membership at this little country church has decreased over the years, their heart for women and babies has only grown. Similar to how God creates beautiful stories out of crisis pregnancies, Immanuel's endowment fund likewise originated out of tragedy. When a longtime member – a never-married lady who consistently placed $1 in the offering plate every week – died in a house fire, Immanuel turned out to be the sole beneficiary of her entire estate. This final act of faithful stewardship sparked wider generosity that grew the endowment, with revenue today generated by member volunteers cultivating donated farmland.
"We are so grateful for our partnership with Immanuel Lutheran Church in Lone Rock. Although many of our congregations are small, they are still indeed mighty, and this is an incredible example of that. The financial gift from Immanuel helped launch the Many Hearts Unplanned Pregnancy Support brand and program that is literally saving lives by helping women experiencing unplanned pregnancies choose life for their unborn baby," said Kim Laube, Executive Director of Life Ministries at Lutheran Family Service.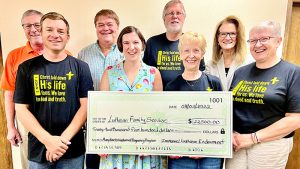 The impact of Immanuel's gift would be greater still, as they partnered with Lutheran Family Service in a successful application for matching funds from The Lutheran Church—Missouri Synod's Million Dollar Life Match. These grants support local LCMS congregations' beginning-of-life mercy efforts to reach communities beyond the church doors with Christ's love. Immanuel members fulfilled the grant's volunteer component by distributing Many Hearts tear-away posters and text-helpline cards to public places around their community (including schools, public libraries, rec centers, and college campuses).
"Immanuel is in full agreement with the Many Hearts program not only because it offers the support needed to make good decisions for the mother and unborn child, but because it also gives the spiritual support that is so needed to these mothers and parents as well," shared Sherri Luedtke on behalf of the Immanuel Lutheran Church Endowment Committee.
Would you like to save women and babies from the evils of abortion? Please join us by hanging tear-away posters and distributing text-helpline cards. You can download both items at links below.
Download, print and hang this Many Hearts Unplanned Pregnancy Support tear-away poster! Make cuts to separate each slip at the bottom. Then make sure to tear away one of the slips so they don't hesitate to take one themselves. Hang them in restrooms in high schools, college campuses, gas stations, shopping mall, restaurants and any other public restroom where women, age 16 – 36 frequently visit. Download the poster by clicking HERE or on the image below.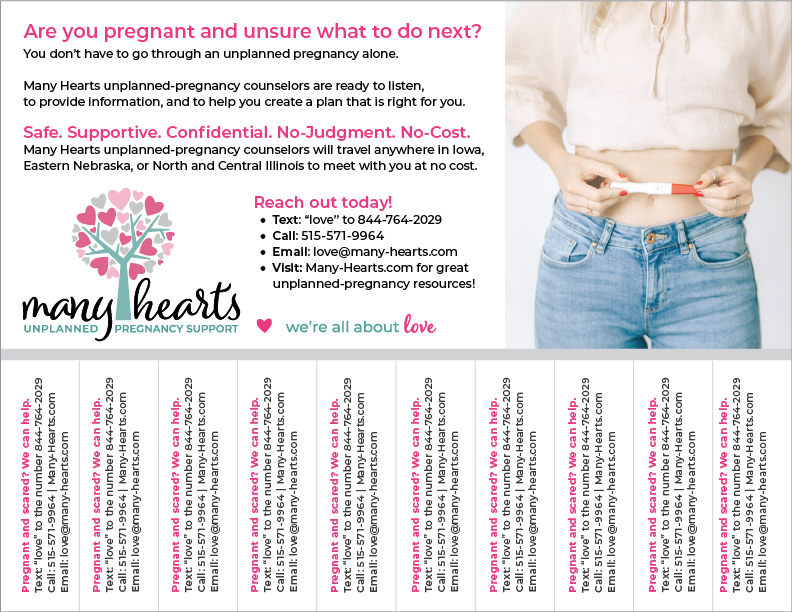 Download, print and distribute May Hearts Unplanned Pregnancy Support text-helpline cards. Distribute them to high school counselors, college counselors, college health clinics, local health clinics. Download the text-helpline cards by clicking HERE or on the image below.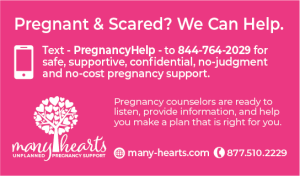 Women facing unplanned pregnancy who live in Iowa, Eastern Nebraska, North & Central Illinois, and Eastern South Dakota, can reach out to Many Hearts Unplanned Pregnancy Support in a variety of ways: