On Monday, February 6, the Iowa State Capitol was filled with prayer and faithful Iowans as citizens, clergy and government workers gathered together in support of life at the 2023 Iowa Prayer Rally for Life! Speakers, including Governor Kim Reynolds, reported on the progress made thus far, and recognized the journey still to come.
Rev. Dr. Jim Lamb, Life Advocate for Lutheran Family Service, was a featured speaker declaring 2023 a "Year of Jubilee." The fiftieth year was a grand year for God's people Israel. It was a year of jubilee, and trumpets heralded liberty from various debts. January 2023 marked the 50th anniversary of the Roe v. Wade decision. Thanks be to God the Supreme Court overturned that ruling in June of 2022. During his speech, Rev. Lamb sounded the trumpet for all to hear.
"On the Day of Atonement you shall sound the trumpet throughout all your land.  And you shall consecrate the fiftieth year, and proclaim liberty throughout the land to all its inhabitants. It shall be a jubilee for you, when each of you shall return to his property and each of you shall return to his clan."  Leviticus 25:9-10
The annual Iowa Prayer Rally for Life is organized by the Iowa Coalition of Prolife Leaders; Lutheran Family Service a founding member. The goal? To work together to make Iowa a state where life in all ages, stages, abilities and conditions is valued and protected. This happens both through prayer, and countless hours spent by Lutheran Family Service, and other life advocates, to stop the killing of children before they are born and halt the legalization of physicians assisting people in killing themselves before natural death.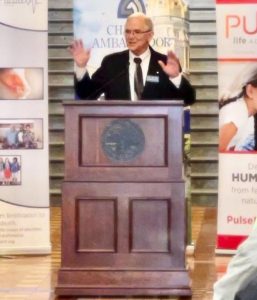 To all who were able to gather in person for the Iowa Prayer Rally for Life – we are grateful. Your presence made an impact. To those that gathered in prayer from afar – we thank you. Keep your prayers coming. In talking with attendees, it was encouraging to hear that so many are connected with and supporting pro-life pregnancy resource centers, Christian adoption agencies and unplanned pregnancy outreach efforts. Helping women facing unplanned pregnancy is something we must continue to make a priority.
What can you do to take action and be a voice for LIFE?
Download and print our Many Hearts Unplanned Pregnancy Support tear-away poster. Hang around the community in restrooms and high-traffic public places.
Find out where your closest Pregnancy Resource Center is located and get involved.
Vote for life-affirming legislators to be our elected officials, and pray for life-affirming action in our legislature.
Contact those who represent you, and let them know your views on killing children before they are born.
Have Lutheran Family Service come and help educate your congregation on God's truth for life issues.
Support the Life Advocacy work of Lutheran Family Service so that we may continue to equip others and stand up to defend the value of life through countless hours and efforts at the Iowa State Capitol.
We at Lutheran Family Service, together with you, the Church, and pro-life citizens of Iowa must continue to speak up, show up, and pray up. Because that little girl in her mother's womb has no voice. She is more than a "choice." She's a baby!
Save children from being killed by abortion. Give today to support critical life advocacy efforts in Iowa!